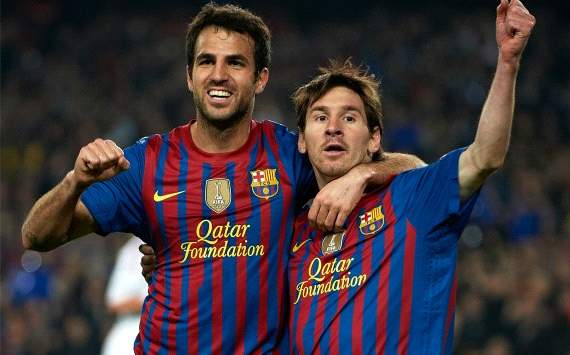 Fabregas and Messi Celebrates a goal -

Barcelona

, ​​

AC Milan

(Getty Images)

Barcelona more likely to retain the Champions League title after successfully

get rid of

AC Milan in the quarter-finals.
The first game the two teams at the San Siro ended goalless

last week

.
Turn to host, Barcelona

managed to

win 3-1 with two goals from Lionel Messi of which were donated from the spot.
One goal the defending champion Andres Iniesta created, while Antonio Nocerino is the only scorer for Milan.
Milan into Italy's last hope of collecting the coefficients in European competition this season.
If a draw against Barcelona to score a goal, Milan is not only qualified for the semi-finals, but also help Italy get a better coefficient.
As I predicted, Barcelona dominated the game throughout the game ten minutes early.
A quick attack can be broken in the fourth minute Christian Abbiati.
Meanwhile, Cesc Fabregas cooperation and Dani Alves did not work.


Goals scored in the 11th minute following a breach Luca Antonini against Messi.
The execution itself was taken by Messi and without the fault of the star had scored 13 in the Champions League this season.
The goal was also to be the into-50 for Messi for participating in the same event.
Surprisingly Milan managed to rise.
32 minutes, Nocerino freed in receiving feedback breakthrough Zlatan Ibrahimovic.
Just in one touch Nocerino managed to outwit Victor Valdes by directing the ball into the far post.
Messi returns the host advantage four minutes before halftime.
Again produced a goal from the penalty spot.
This time the scene a bit controversial because the referee Bjorn Kuipers considered too lenient in assessing violations of Sergio Busquets Alessandro Nesta.
The game had practically finished when Iniesta scored Barcelona's third goal in the 53rd minute.
Philippe Mexes effort to cut bait instead directing the ball into the run Iniesta.
Without difficulty, Iniesta pushed inside the ball into the goalkeeper Abbiati.
Barcelona's two-goal lead to more peaceful in the control of the game.
Thiago Alcantara, Adriano, and Seydou Keita in a row is inserted to replace Xavi, Gerard Pique and Fabregas.
Efforts to Milan to find the magic was in vain because of the dominance of Barcelona it is difficult to stop them.
3-1 score lasted

until the end

.
In the last four, Barcelona will face the winner of the Chelsea and Benfica.